Get yourself a bottle until December 31 for only €25,00 at any BRUNOS Store in Germany and BRUNOS online
from November 15 until December 24 you can also get TOM OF FINLAND organic Vodka on Berlins new GAY CHRISTMAS Market at Nollendorfplatz. Check it out at the BONER Stand and get yourself a copy of our sexy XMAS POSTCARD. Open every day.
---
FOLSOM EUROPE HIGHLIGHT
---
WORLD PREMIERE!
2019, on June 28, it will be 50 years ago when the gay community stood up to discrimination at the Stonewall Inn on Christopher Street in New York.
In memory of these riots, the beginning of the queer activist movement, we are celebrating that day on numerous PRIDE Parades in Germany and all over the world.
TOM OF FINLAND – organic VODKA wanted to make a statement in this 50 anniversary year and created with the rewarded Hamburg Barkeeper DIRK GÜLDNER a new Vodka-Cocktail:
"STONEWALL 50"
A very tasty and refreshing mix of Vodka, Falernum, Lime Juice and a bit of Chocolate Bitter, which gives the cocktail even a slight note of leather, says Güldner, who is also Style Groupie, PR man, once an official Mr.Leather Hamburg and big admirer of Tom of Finland's Art.
Even DURK DEHNER, CEO of the TOM OF FINLAND FOUNDATION in Los Angeles was overwhelmed from this Cocktail idea:
"In celebrating we never forget the past. Here's to our future!"
At this years WORLD PRIDE NY on June 28 TOM OF FINLAND – Organic Vodka is celebrating the Courage of 50 years of engagement for equality and raises the glass to the courages men and women who dared to stood up to the discrimination at the Stonewall Inn.
See our Clip here; STONEWALL50 Video Clip
#YourTomIsShowing #TomOfFinlandVodka
How to do your own STONEWALL 50:
5cl TOM OF FINLAND Organic Vodka
2 cl fresh lime juice (add a bit of sugar sirup if wanted)
1 cl Revolte Falernum
3 dashes of chocolate bitters
Shake over ice, strain into a pre-chilled cup
ENJOY!
Find our event listings and where to buy TOM OF FINLAND Organic Vodka
Find our event listings and where to buy it
---
2018
---
Come join one of our Special Events
TOM OF FINLAND – organic VODKA @FOLSOM EUROPE
---

TOM OF FINLAND – organic VODKA @ BLACKWEEKEND Berlin
---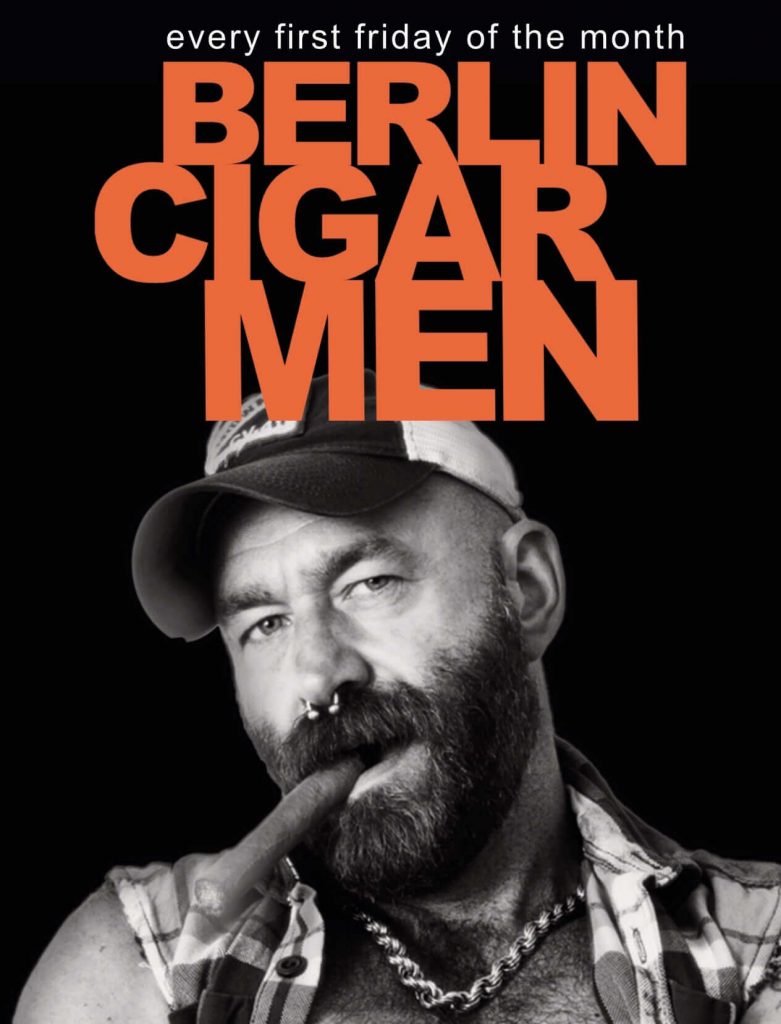 ---
More
---
BERLINCIGARMAN Pop Up Photoshooting IV
You always wanted a great picture of you smoking a big cigar? Three professional photographers will be ready for a shooting between September 05th and 9th 2018. Details regarding time and location will be announced shortly here on male.space!
---
2017
---
Choose your favorite motiv and vote for your BERLINCIGARMAN
[huge_it_gallery id="1″]
Please add your HEART Button – we are curious who will be your favorit
Next BERLINCIGARMEN smoking lounge Friday November 3rd. More infos here or on Facebook, Twitter or Instagram
---
BERLINCIGARMEN
@ Motzstreet Fair
Sunday July 16th
---
SPECIAL during Motzstreet Fair
Saturday July 15th | Sunday July 16th from 2pm
Cigarshop with StarkeZigarren
---
Sunday | July 16th from 3pm
Photoshooting @/ in cooperation with
Gallery Dencker&Schneider
Kalckreuthstraße 14 – 10777 Berlin